About Us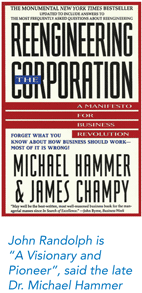 The Clinton Group was founded in 1993 by Managing Director John Randolph who originated the Business Process Reengineering as a Canadian business discipline in the late eighties. John launched Clinton Group in partnership with James Champy and Michael Hammer, best-selling authors of Reengineering the Corporation, the ground-breaking book that continues to serve as the bible for business process reengineering globally.
Clinton Groupís blue-chip client list and stellar reputation are the results of unique and focused methodologies, unparalleled skills, and experience with assisting demanding clients to review processes, identify and develop new strategies, and implement changes rapidly.
Johnís commitment and dedication to fulfilling and exceeding contractual goals while maintaining the highest quality of work, meeting deadlines, and delivering on budget, has provided the Clinton Group consulting team with broad cross-industry and cross-sector experiences. Deep knowledge gained by leading some of North Americaís largest projects brings change management expertise that is unsurpassed.
John Randolph Achievements
Trained at Sloan School of Management, Massachusetts Institute of Technology
Guest lecturer on Business Reengineering, John F. Kennedy School of Government, Harvard School of Business
Received Canadian Forces Medal for Distinguished Service in 2007, the highest award granted to a Canadian civilian
Contact us to learn more about our methodology, its application and value to the success of your organization.
© Copyright 2010 Clinton Group Inc. All Rights Reserved.